AL GERWING RECEIVING THE ORDER OF CANADA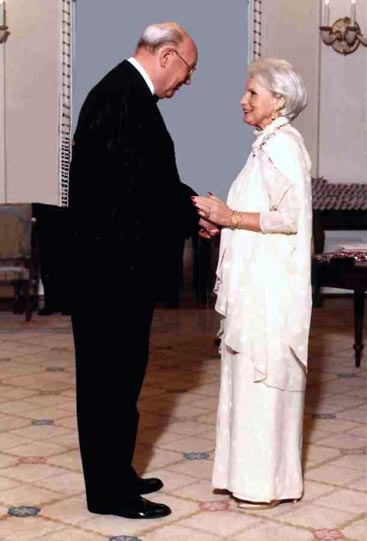 ALPHONSE MATHIAS GERWING C.M.
A schoolteacher, he dedicated his life to bringing the love and appreciation of music to people living in rural communities throughout Saskatchewan and Alberta. Not only did he influence children and teenagers through his classes and school choirs, he was also involved local adults in his production of musicals and operettas, sponsored successful concert tours by European choral groups and left and enduring legacy in the form of numerous choirs, theatre groups and arts councils that are still carrying on his work.
MEMBERS OF THE ORDER OF CANADA
19.
(1) Appointments as Members and honorary Members of the Order shall be made for distinguished service in or to a particular locality, group or field of activity.
(2) Notwithstanding subsection (1), any distinguished person, who is not a Canadian citizen but whom the Government of Canada desires to honour, may be appointed as an honorary Member of the Order.
20. The Governor General may appoint Members of the Order, other than honorary Members, a maximum of ninety-two persons in any year.