The Marysburg Annual Christmas Concert and Supper-

Sunday Dec 11, 2016
Al Gerwing and Greg Schulte were instrumental in establishing the Annual Summer Festival of the Arts at Marysburg, providing first class musical entertainment performed by some well known entertainers.
Please click on the link to go to the Marysburg website for tickets
Marysburg Christmas Concert 2016 ~~~~~~~~~~~~~~~~~~~~~~~~~~~~~~~~~~~~~~~~~~~~~~~~~~~~~~~~~~~~~~~~~~~~
It's here!
The long awaited memoirs of Al Gerwing are complete.
The book is titled- "No Ordinary Man- The Memoirs of Alphonse Gerwing". This is the book that Connie Gerwing has been working on for over 10 years.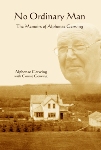 Commentary from Jan Schmitz: The Memoirs are Al's own words, with editorial content from Connie Gerwing to add some context. Al was a great writer. His style makes you feel like you were sitting and having a chat (and a laugh) with him. Born in 1923, Al talks about what it was like growing up on the prairies and then becoming a teacher in those days. Then he fell in love with the Brazilian street people, and dedicated the rest of his life to improving their situation. A truly extraordinary man. A story well worth reading.
All of the money from this book will go to the Alphonse Gerwing Foundation to fund the projects to continue Al's work. You can purchase a copy through a Robinson McNally store or on their website: Robinson McNally Books.com
You can also contact Ted Gerwing by email: tedgerwing@sasktel.net; Connie Gerwing at cgerwing@sasktel.net; Vicki Gerwing at v-gerwing@shaw.ca; or Steve Buttinger at sbuttinger@sasktel.net
It will make a great Christmas gift.
~~~~~~~~~~~~~~~~~~~~~~~~~~~~~~~~~~~~~~~~~~~~~~~~~~~~~~~~~~~~~~
Friends of Kinyambu School Library Fund Raising Project blog
Donations To use your credit card click the button below. To receive a receipt in the mail, please fill out the shipping address form on PayPal.